Nike Mercurial
2018 is the year in which the most popular boot silo by the American brand makes 20 years. This silo is developed to squeeze the speed of the player to the last millisecond. The Nike Mercurial 360 are here with a new generation, lighter, tighter and faster.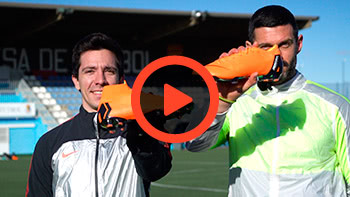 Buy








Upper
Flyknit
The bet for the Flyknit thread is still strong after the success achieved since its 2014 realease. This thread makes this upper one of the thinnest and lightests on the market, achieving thus a barefoot sensation.
Buy

Chassis
Minimalist setting
With the feedback of several players, Nike has developed the 360 adjustment of the new Mercurials in order not to leave any empty spaces on the inside and the chassis to join with the foot as if it was a second skin, returning thus all the speed our body creates directly to the boot.
Buy

Sole
The most aggressive outsole in the market
The fastest mammal on earth has been the main development element used as inspiration for this new outsole. Its running tecnique has been the key point to minimize both the weight as well as the pieces of the plate, placing the maximum traction área on the metatarsal bone and the stability zone on the heel.
Buy
COMPARATION
With the insertion of the new modular sole of the Mercurial silo, Nike has achieved to keep all the benefits of the anatomic plate that had been presented in the last generation and has reduced the weight of this element to keep its reactivity in order to squeeze the player's speed to the maximum.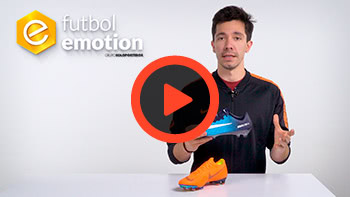 Buy


VAPOR
The Teijin upper that accompanied this silo for so many years has been replaced by the brand's star material, the Flyknit material. With it the Mercurial essence is kept: the ultra-light Speedy boot. It also gives you the chance of owning a Mercurial
Buy
Mercurial Black
Nike Mercurial 360 BLACK. Just 2 weeks after the release of the Mercurial New Gen, Nike is surprising us by unveiling a new version in black which will amaze the most classic players.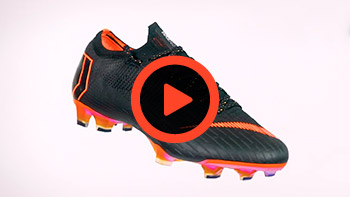 Buy





These boots will be worn by players like Cristiano Ronaldo, Neymar Jr, Kylian Mbappé and Marco Asensio.

Complete your look
Top off your look with the accessories and gloves that combine with this Pack