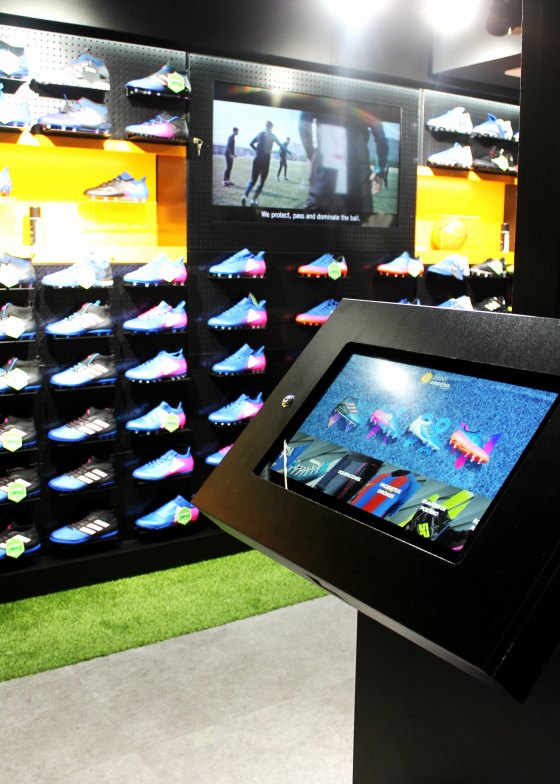 Coming soon Futbol Emotion Algeciras by Grupo Soloporteros bets for specialization in the heart of the city with a store exclusively dedicated to football and futsal so all fans, professional and amateur players have access to all the new realeases in football gfear.
Placed in Plaza Alta, the main square of the city and one of the busiest commercial areas in Algeciras, here you'll find the best football establishment and the best councel possible by our staff regarding gloves, goalkeeper kits and gear, as well as boots, teamwear, footballs, merchandising and football/futsal-specific material. Let's not forget our kids section where the youngest players will find any kind of gear adapted to their age.
Discover the best football gear for outfield players and goalkeepers in Futbol Emotion in Algeciras. Here you'll find the best brands in the sector like Nike, adidas, Puma, Joma, Munich, Kelme and our own brand, SP.
Also, our gear personalizarion service allows you to customise our products at the moment, providing a more excusive and special to our customer's material.
Don't wait any longer and come enjoy FUTBOL EMOTION ALGECIRAS BY GRUPO SOLOPORTEROS, where you will be advised by the best product specialists of the city. If you have any kind of query about materials, studs, models or brands, don't hesitate to go to our store so we can explain and solve all your questions. At Futbol Emotion, we're gear specialists, we've got the latest products and we receive exclusive collections that no other store in Spain has. If you don't want to miss any novelty, visit us and we'll tell you about the latest releases.
We'll be waiting for you in Plaza Alta nº2 from Monday to Saturday from 10am to 1.30pm and from 5pm to 9pm.