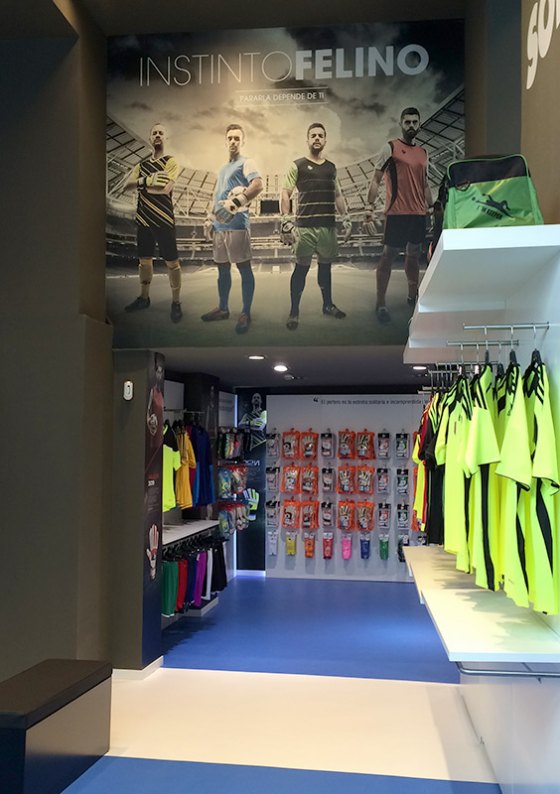 Fútbol Emotion opened in May 2014 it's first shop in Galicia, and the chosen city was Vigo.
Fútbol Emotion Vigo by Grupo Soloporteros is located in the city centre, in the comercial core area of Vigo, specifically in Calle Gran Vía 1, in the junction with Calle Urzaiz. The shop is very well connected with the rest of the city thanks to the urban transport and the public car park, 15 meters away from the store.
This shop of 200m2 has been designed with a Premium concept to offer an exclusive space to our clients where they can enjoy a unique purchasing experience.
The team staff that you will find in Fútbol Emotion Vigo by Soloporteros is formed by collaborators widely specialized in football, futsal and goalkeepers that will put at your disposal all their sports gear knowledge to cover all of your necessities. At Fútbol Emotion we are gear experts, so don't hesitate to visit our store if you have any queries about purchases or about the latest news in brands, materials, sole types, models or studs.
The store is organized in different areas where you will find football and futsal boots, exclusive gear for goalkeepers, teamwear, urban shoes and an exclusive space for the youngest players.
Besides, we count with a specific customization xone where you will be able to personalize your purchase as the professionals do.
If you need to make a gift, ask us about our gift cards with which you can give 50 or 100 euros away in material. An excellent way of making a gift without risking a mistake. If you just want to go for something smaller, you can get anyone to become a Fútbol Emotion club member for just 10€ per year and enjoy extra discounts, access to events and exclusive products only for club members.
We are waiting for you in Calle Gran Vía 1, Monday to Saturday from 10am to 2pm and from 4.30pm to 8.30 pm. If you have any queries about the availability of a product or about an order to be picked up in the store, don't hesitate to get in touch with us by calling at 0034 986 12 40 50 and we'll help you with everything you need.