Nike Just Do It Pack
The most awaited event of the year is coming, the 2018 Russia World Cup. This is the moment when no other opportunities are left, when you've got to believe in yourself and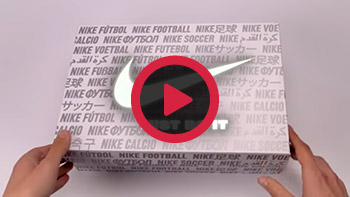 Nike Mercurial
Veloz por naturaleza
Perfect fit and excellent touch with the ball for the fastest player of the field. It will allow footballers like Cristiano Ronaldo, Neymar or Mbappé to enjoy an explosive acceleration on the pitch.
Explore

Nike Hypervenom
Remate letal
For the most aggressive forwards of the World Cup. Developed to increase your agility and strengthen your shooting skills, they will be worn by Cavani, Higüaín and Lewandowski, who will compete to be the most lethal forward of the World's Cup.
Explore

Nike Magista
Controla el partido
The best touch, fit and stability for the influential players, those who have the last word about the match's pace, so players like Andrés Iniesta, De Bruyne or Eriksen can perfectly lead their federations.
Explore

Nike Tiempo
Dominio natural
A classic doesn't have to be old-fashioned. Sergio Ramos, Carvajal or Wilshere will display the model's touch, comfort and class as representatives of the brand's touch silo.
Explore

Nike Football X
You will also be able to support your favourite football player also in the futsal court with the Just Do It Pack with the usual futsal models: TiempoX, HypervenomX, MercurialX and MagistaX. There's no excuse not to dress in White for the 2018 World Cup!
Explore

Complete your look
Gear up as a profesional with the kits, gloves and accessories that you will find in this new pack. Don't miss anything in this new season!