Nike Mercurial
Ronaldo 'O FEnómeno' was the key piece for the Mercurial line to become one of the most iconic silos we have today in the market and it all started with the original model of 1998. There are years gone by and we have another Brazilian ready to conquer the world. Neymar debuted with the Canarinha with a Mercurial Superfly II and for 2017/18 Nike launches the fusion between the past and the present with the exclusive Mercurial Puro Fenomeno.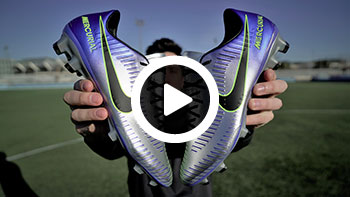 Buy





Upper
Generation of '98
On a technical level the changes are slight since it is not a generation leap, but it is true that Nike has modified the chasis, which on this occasion has fewer rails, so that the synthetic Teijin is softened, making the
Buy

Chassis
Minimalist setting
The narrow shape of Mercurial Vapor provides the tightest fit we can find in a boot today. For the player who wants to have a boot that gives him the sensation of wearing a
Buy

Sole
The most aggressive outsole in the market
Currently, we see less and less laminated studs but the reality is that many players are looking for this type of sole, with aggressive studs that give maximum traction in sprints or cuts and all on a reactive plate that can withstand and strengthen the physical abilities of the player.
Buy

Complete your look
Top off your look with the accessories and gloves that combine with this Pack