SP NO GOAL ZERO
SP Futbol radicalises the ultra-light seamless glove with the release of the No Goal ZERO in 2018. The material called LATEX BODY by SP provides support to the hand and allows to use the glove with or without fastening strap.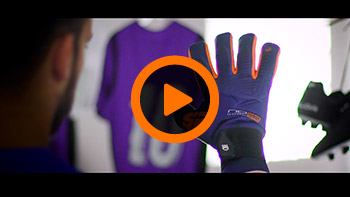 Buy
Backhand
Single-piece LATEX BODY without seams from the fingers up to the wrist. Anti-sliding gel on the knuckles.
Buy
Palm
Professional Gigagrip (GG) latex assembled over a anegative cut. Inside gel on the fingertips.
Buy
Closure
Detachable elastic strap so you can either choose to wear it or directly play with the LATEX BODY fastening as support.
Buy
Complete your look
Although the No Goal Zero doesn't have any interferences and can we worn without anything else... if you want to, you can wear it along the following items below.