ADIDAS NITECRAWLER
Stealthier than ever, the new hunter enters the scene. adidas presents the Nite Crawler collection in which its 4 most representative silos receive a blackout decoration, sober, elegant, for those players who seek to stand out for their skills and not for their boots.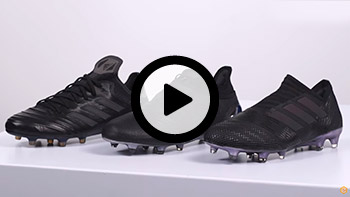 adidas Copa 18
Black boot, kangaroo skin and conical studs. This is the presentation of the new adidas Copa. This silo is loyal to a traditional aesthetic and functionality as well as to its characteristic comfort without match.
Explore

adidas Predator 18
Control, precision and strength characterize the new predator of adidas that, in 2018, includes the latest technologies of the German brand: a 3D Primeknit upper, BOOST cushioning and a total laceless adjustment.
Explore

adidas Nemeziz 17
Maximum adjustment and support thanks to the AgilityBandage technology that wraps the foot of the player by getting rid of any empty space on the inside of the boot. The perfect allies to dribble, feint and shoot in any situation.
Explore

adidas X 17
The adidas X dresses up the feet of some of the best attackers worldwide and provides support to Luis Suárez or Gareth Bale, among other players, who find in this silo the perfect balance between confort and lightness.
Explore

adidas Predator Tango
Conquer the streets confidently, with personality and technology in your feet. The Predator Tango combines the most aggressive aesthetic of the silo with the maximum confort that the Primeknit thread and the BOOST technology can offer.
Explore

Complete your look
Equip yourself like a professional with the kits, gloves and accessories that can be found in this new pack. Don't miss anything in this new season!