adidas Exhibit Pack
Stand out in the field for your bold spirit! Step up, leave your doubts behind and become the star of the match with your boots. Messi, Dybala and Pogba have received the most stunning colors until the moment. It's time to show your skills!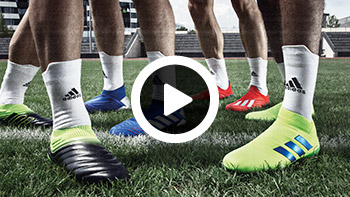 Buy
PREDATOR
The control line of the German brand presents its first generational leap since its return in 2018. This is a continuist evolution that however keeps its main characteristics.
Buy
X
Speed is a deadly weapon. Traction and lightness are the features X players seek to outrun their rivals. An ultra-light upper and a minimalist plate make this model the first choice of such big names as Gareth Bale or Gabriel Jesús.
Buy
Nemeziz
For influential players. Adidas Nemeziz seeks to provide the footballer the best fit possible thanks to an upper that wraps the foot as if it was an elastic bandage. This will be the boots of the Argentinian star Leo Messi.
Buy
COPA
This is adidas' most recent surprise. It retrieves natural leather since it's a really important material in the present and future of football boots manufacture. The most classic side of Copa has disappeared with the arrival of the FusionSkin technology and the laceless trend which make this boots the most ground-breaking leather model of the moment.
Buy
Complete your look
Gear up as a profesional with the kits, gloves and accessories that you will find in this new pack. Don't miss anything in this new season!
Buy