adidas Hardwired
The pre-season is here, meeting your colleagues, the begining of a new stage, hope, doubts and wanting to jump once again into the playfield. What is better tan doing that with new boots? That's why adidas presents the Hardwired Pack with new colors for adidas Predator, X, Nemeziz and Copa.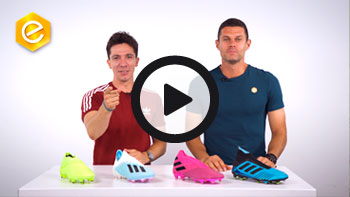 Buy





X 19
When your strongest weapon is speed and outruning, you need a light and aggressive boot to be your ally and leave your rivals behind, you need adidas X 19. Its upper made with Skeletalwave is ultra-thin and its reactive plate makes it the favourite choice of such big names as Gareth Bale or Gabriel Jesús.
Buy

Predator 19
The most iconic line of the German brand has arrived to the 19/20 season with plenty of technologies, like its PRIMEKNIT upper and a BOOST cushioning plate to make this boot one of the most comfortable you'll find in this collection. Paul Pogba or Mesut Özil already train with their new Predator 19, and you, are you ready?
Buy

Nemeziz 19
In order to create a boot that provides fit and stability for influential players, Nemeziz covers the foot with an upper composed by elastic bands, just like boxers and ballerinas do, which complies with the needs of such important players as Leo Messi or Isco Alarcón.
Buy

Copa 19
Touch and fit are essential for modern players. The adidas Copa 19 join the tradition of leather boots with the latest adidas' technologies to create a laceless and seamless boot. These are the boots Paulo Dybala will wear with the Juventus for the upcoming 19/20 season.
Buy

Complete your look
Gear up as a profesional with the kits, gloves and accessories that you will find in this new pack. Don't miss anything in this new season!