Umbro Accuro III
The line created for game control. The new Accuro III generation will be your ally to cover long distances and lead the game at every moment. The new football boots of the English brand stand out for their touch, lightness and comfort thanks to their new microfiber materials and striking elements such as the D3O of the upper.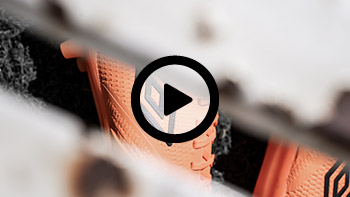 Buy




Upper
One of the uppers with the most technologies included by the brand Umbro. Its single-piece upper is joined to the toe cap and to the midfoot with the new D3O tech, which smoothens the impact of the ball against the foot and provides an extra energy return when striking, with an excellent touch.
Buy

Chassis
Versatility is the inspiration for this chassis. Umbro brings an elongated tongue so the instep adapts to any kind of feet and provides a perfect fit. The Pro-Stance heel counter will prevent any roll-over inside the boot, offering lockdown and stability in the most aggressive actions.
Buy

Sole
At first sight, this sole may look simple compared to the rest of the Umbro lines, but actually, the English brand has made an effort to create a low-profile sole with conical studs which is rigid in the foot arch and includes flexing lines at strategic places. Tradition is present in the new Umbro Accuro III sole.
Buy