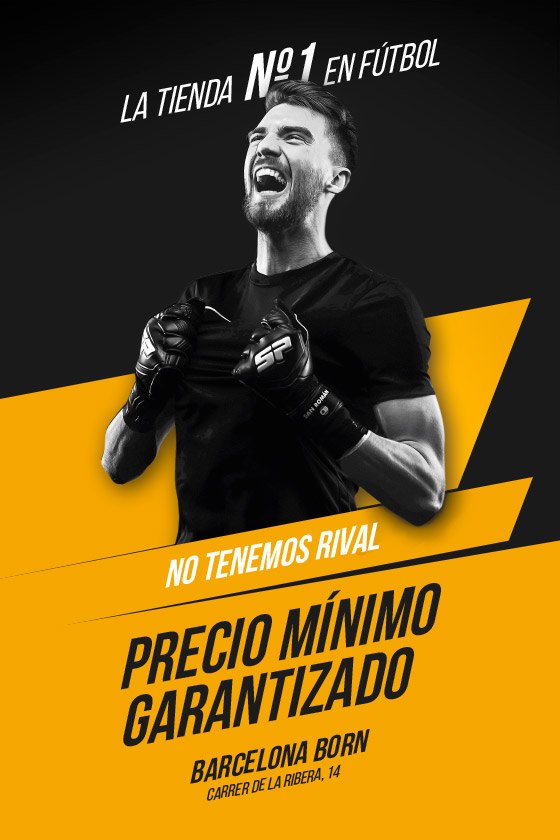 FÚTBOL EMOTION. New store opening in el Born
The Soloporteros Group makes a new opening, called to create a groundbreaking concept and revolutionize the traditional football gear purchasing experience.
The company Fútbol Emotion (which belongs to the Soloporteros Group) is happy to welcome a new member to the number of selling points in Spain. It isn't just about the opening of a football store, but the evolution of the sports store concept we are used to. A new concept that plays with the footballer's purchasing experience. The furniture of the shop has been created by the very own Fútbol Emotion design team, offering a corporate image that will make you breathe football in each of the 1000 square metres of our new store.
Yes, you've read right, 1000 square metres that make the Bcn&Born the larger football store in Europe.
However, the newness isn't just reduced to decoration and size. Players will find in Fútbol Emotion Barcelona a technologically advanced store with a lot of digital content that will allow the client learn about about such specific and performance-oriented products as football gear is. This new purchasing experience is algo an omnichannel experience, so customers can request out-of-stock products and comfortably receive them at their address the following day.
Not just the futsal and football players will feel at home at El Born, but also the football fans, as we are also suppliers of official products, merchandising and urban clothing.
The largest, most modern and interactive football store in Europe is waiting for you in Barcelona: Fútbol Emotion Bcn&Born.
Come to visit us from Monday to Saturday from 11am to 9pm.
FREE PARKING* for clients.
*Make a purchase over 80€ and we'll give you a 30 minute free parking voucher in the El Borne Centre Parkia car park, 100 metres away from the store and next to the Centre Cultural i de Memoria.
***FREE WI-FI FOR CLIENTS***