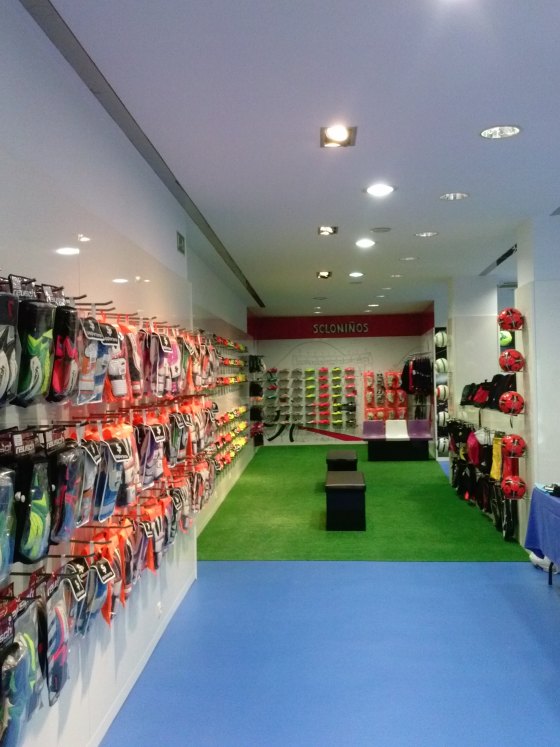 Fútbol Emotion has landed in Castilla y León, specifically in the center of Valladolid, with a spectacular football store with a space of 190m2 for joy the of all football and futsal goalkeepers and outfield players as well as for all footbal lovers.
June 6th, 2014: that is the date when Fútbol Emotion - Grupo Soloporteros opened their shop in the center of Valladolid, calle Claudio Moyano 26, only 50 meters away from Plaza España. Easy to find and reachable for all our clients and with the best possible location.

In this store you'll find the best advice by the Fútbol Emotion staff for all the products you can find in the shop: goalkeeper gloves and accesories, boots, merchandising, balls and another specific football and futsal gear. And with this we still manage to find a place for kids as well as another one for urban fashion with the best brands.
An last but not least, the personalization section, where you can customize your boots and gloves at the moment so you can own an unique item.
If you need to make a gift, ask us about our gift cards with which you can give 50 or 100 euros away in material. An excellent way of making a gift without risking a mistake. If you just want to go for something smaller, you can get anyone to become a Fútbol Emotion club member for just 10€ per year and enjoy extra discounts, access to events and exclusive products only for club members.
We are waiting for you in Calle Claudio Moyano 26, Monday to Saturday from 10am to 2pm and from 5pm to 8.30pm.
If you have any queries about the availability of a product or about an order to be picked up in the store, don't hesitate to contact us by calling at 0034 938 56 06 89 and we'll help you with everything you need.