Nike Tiempo Legend 9
The Nike Tiempo Legend has evolved into its ninth generation not with just any change. The American brand presents one of the lightest Tiempo up to date by reducing the inside layers and turning them into a pair of updated natural boots that offer what modern football needs. They also include foam pods in the striking area to provide more control sensation in contact with the ball.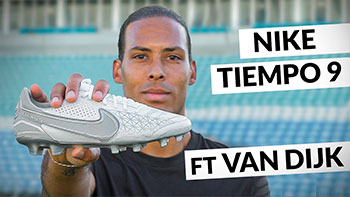 Buy




Upper
New construction of the smooth premium Nike leather that leaves behind the 3D design of the previous model and provides once again the characteristic look of natural leather. As the main novelty, it includes foam pods in various striking areas so as to provide grip and a pleasant sensation in contact with the ball.
Buy

Chassis
New construction for this classic boot that removes layers of inside materials and turns it into one of the lightest Tiempo Legend of all time. Flyknit has returned but now, only in the tongue area, which provides grip and more comfort sensation.
Buy

Sole
The lightest sole with combines different-shaped studs: bladed in the heel to provide more stability and conical in the forefoot to provide more traction when braking. Even though it's redesigned, this sole has the same stud distribution than in previous models and, if something works, why change it?
Buy

Complete your look
Top off your look with the accessories that best combine with this Pack and display your game in style.