SP ECLIPSE PACK
Agressive or calm. Villain or heroe. Destroyer or savior. Light or darkness. The Eclipse collection by SP Futbol is born to dress two kinds of goalkeepers: the warrior who wants to defeat the rival and the heroe who seeks to save the team.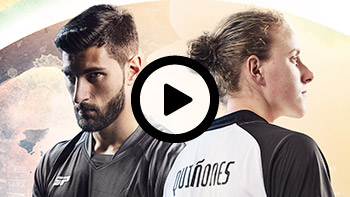 Caos
Odin and Mussa are joined to create the new glove SP Caos, a name inspired by the ancient Greek god who was the first to appear in the creation of the universe. This glove is a true flagship, responsible for helping professional goalies and showing who rules in the goals.
Buy

Pantera
Pantera es un guante con un armado medio alto, gracias a la popular pieza de goma DUAL CORE. Desde el modelo PRO, perfecto para el rendimiento profesional, hasta la línea Training, el guante de iniciación, tendrán su sitio en la colección Eclipse.
Buy

Valor
A homage to classic goalkeepers. It's been 10 years since Justo VIllar, a goalkeeper who played for the Valladolid line-up then, made the brand SP to debut in the elite Spanish football. The Valor 99RL is a tribute to that historic moment. This is a classic glove with the most modern technologies.
Buy

No Goal
You will read everywhere about seamless gloves but just a few truly dare to wear a single-piece, thin glove. In this new collection, SP offers the chance to choose the glove No Goal ZERO in different ranges. In an era of minimalist gloves, all want to compete with No Goal ZERO.
Buy

Earhart
Amelia Earhart was a true legend regarding women's rights, an American pilot who stepped ahead in a world ruled by men. The glove line for women by SP Futbol, with the spirit of Earhart, is the most used glove of the Spanish Liga Iberdrola.
Buy

Nil Marin
The glove Nil Marin is a tribute to a young goalie related to Futbol Emotion who, at the point of becoming a professional, died in a traffic accident. From that moment we decided to honor him by developing a glove line. Nil Marin is handed in our Futbol Emotion campus, clinics and schools. This Nil Marin glove is our way of keeping his memory alive in the events he enjoyed so much.
Buy

Complete your look
Gear up as a profesional with the kits, gloves and accessories that you will find in this new pack. Don't miss anything in this new season!