The boots of
Virgil Van Dijk
Liverpool FC
Virgil Van Dijk's career is one of the most impressive in recent times, and his tremendous performance has brought him to the throne of central defenders. Van Dijk's football boots have seen this hatching and have been with him since the beginning. These boots are a classic for center-backs, the Nike Tiempo Legend VIII.
It was wearing the Liverpool jersey when the Dutch central defender has broken the schemes and has emerged as the decisive defensive figure that he is today. Something that has also helped him to earn a spot on the Dutch national team, taking his image to the top. Van Dijk's career is being spectacular, and he is now sitting alongside the greatest center-backs of the time.
For this difficult task, the "orange" player has chosen the Nike Tiempo Legend, a choice very typical of central defenders and that helps their game of long passes, cuts and brutal clearances. The new Tiempo combine the best of two worlds: the elegant and subtle touch of natural leather for the front, and a snug fit and fit typical of the synthetic microfiber of the back and the inner lining.
This formula usually hits the spot for all those who want a modern football boot, but do not want to give up that elegant and perfect touch that only natural leather gives us. This leather is one of the best, since it is very soft and very comfortable, something that will increase with the use of it. This natural leather blends into the boot with a Flyknit tongue and inner lining, which give us that special comfort. As if this were not enough, to have that precise and unique fit, Nike incorporates Quadfit technology, which is a woven mesh that goes inside the boot and adheres it to the foot in the best possible way.
The sole of the Nike Tiempo remains the same as previous generations, which, as they always say: "if something works well, don't touch it". This sole is especially liked by the Dutch player, who also uses it in both the FG and SG versions when the field is wet. Something that added to Nike's ACC allows maximum touch and traction in each exit and braking. The distribution of studs is classic with semi-conical studs, but with some studs in a triad, which helps to give us that much-needed extra grip.
And these are Van Dijk's boots, classic boots but adapted to the modern style, a perfect simile of the game of the red player, which mixes that attitude of a central defender with the speed and touch of a modern player. Virgil Van Dijk football boots are a seamless choice.
The boots formerly worn by Virgil Van Dijk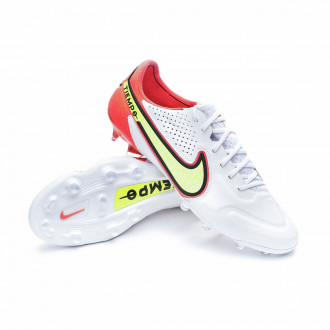 Tiempo Legend 9 Elite FG White-Bright crimson-Black
Virgil Van Dijk in social networks