Upper
Boot upper material
The material of the upper determines the boot type and its ideal player. The materials affect the weight of the boot, the contact sensation with the ball and, above all, the possibility or not of adapting to the foot.
Natural materials
They're cattle leathers. Kangaroo leather is the most sougth-after since it provides the best performance. It's used for top-tier boots and it's so appreciated because it guarantees an excellent foot lockdown with a very thin leather layer, providing lightness, something almost impossible to get with natural boots. Cow leather is used for the mid tier. This is a coarser and less flexible leather with similar properties to the kangaroo skin but at a more affordable price.
Pros
Leather boots offer the maximum adjustment adapting to those parts of the foot which receive the most pressure.
The contact with the ball is perfect. It transfers more touch when striking or controlling the ball than any other kind of material. Besides, it has nore flexing points than any boot made with synthetic materials.
Cons
Leather absorbs water significantly increasing the weight of the boot.
It's very difficult to create a light boot using natural materials.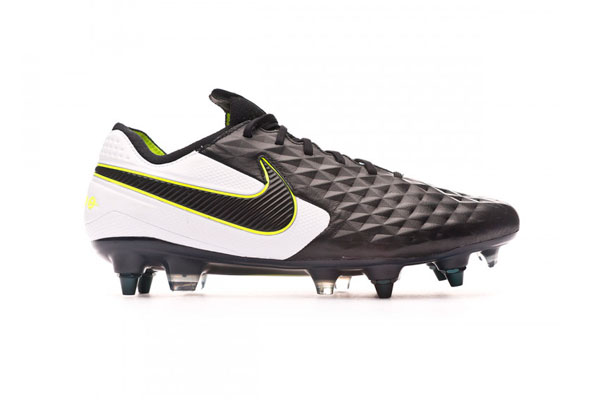 Synthetic materials
Synthetic materials are divided into two types:
SYNTHETIC MICROFIBERS
They began to be used in the late 1990s as an alternative to leather. They provide advantages such as less water absorption, easier to apply colors and the reduction of the use of materials of animal origin.
KNIT
The London Olympic Games showed the world a new material for footwear that entered with force in all athletic disciplines: knit. The possibility of making the shoe shells out of a thread fabric allows the flexibility of leather to be combined with the lightness of synthetic microfibers in the same material. In 2014, brands introduced it to football boots for the World Cup in Brazil and changed the way football boots are made forever. From now on, knit would be one of the preferred options.
Pros
Reduced weight.
Good waterproofing.
Flexibility of the material to adapt to the foot.
Unlimited color options.
Cons
The boot doesn't stretch to adapt to the foot.
The contact with the ball sometimes is too abrupt since the material is so thin you feel the impact.
Uppers are less flexible than those of natural leather.