Backhand
Technologies
Materials
A lot of materials are needed for the manufacture of a goalkeeper glove, but the main compound is always latex. As with the rest of glove parts, there are differences between the materials used for top-range and low-range gloves.
Top-tier Gloves:

The main material for top-quality gloves is natural latex, much lighter and flexible than the rest of materials and usually combined with breathable fabric or neoprene.

Mid-tier Gloves:

Mid-tier backhands are usually made with synthetic latex. To provide an affordable price, low-end gloves are normally made with PVC or EVA, much heavier and with a worse fit and ventilation. Brands such as Uhlsport (Climacool) or Nike (Panelmesh) have special ventilation systems.
Protections
Protection systems are assembled on the backhand. They're spines that allow fingers to flex but prevent them from extending in case they receive an impact. They can be detachable or or not depending on the glove range. Normally, top-tier gloves have detachable protections with zip systems, mid-tiers usually use velcro and low tiers don't tend to have detachable spines. Uhlsport created a system that didn't use spines (Absorframe) to try to strengthen the materials of the backhand by preventing the excessive extension of the fingers which forces joints and tendons. The problem was it also prevented the fingers from flexing and Uhlsport turned back to the spines.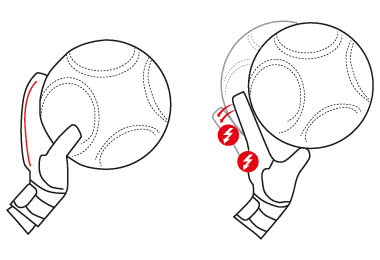 Ventilation Systems
Each brand has its own ventilation system included in the backhand, normally made with breathable fabrics, neoprene (for water-specific gloves) or strategic areas to make the hand ventilation easier. As in the rest of the backhand, the higher the range of the glove, the best ventilation systems it will have. Low-tier gloves barely have any ventilation systems.